Appraisals reviewed by Brock's own staff 2 years ago document construction Brock says not proven
This archive story is now free.
You support the work of the journalist who produced this story when you subscribe to Naples City Desk for only $4.99 a month.
Feb. 11, 2014
By Gina Edwards
Naples City Desk
Elected auditor Dwight Brock publicly made the kind of accusation that can damage a business reputation: More than $400,000 in construction bills submitted by Boran Craig Barber & Engel in connection with a federal housing grant for remodeling work weren't backed up with proof that the work was actually done, Brock said.
Brock announced he planned to ask law enforcement to investigate.
But a Naples City Desk investigation of Brock's internal audit files shows that dozens of photos in home appraisal reports — reviewed by Brock's own staff more than two years ago — document the significant remodeling work done by Boran Craig Barber & Engel for the non-profit housing group called H.O.M.E.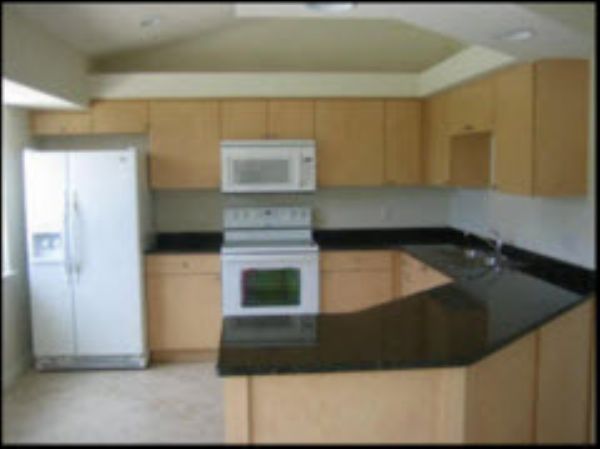 Photos of the 12 houses H.O.M.E. remodeled as part of a public-private effort that received federal grant money show some houses, more than 30 years old, that underwent major home makeovers: Appraisal photos document new kitchen cabinets, including granite countertops, new tile floors, completely remodeled bathrooms with new tile and showers, vanities and toilets, new appliances and new roofs.
One appraiser's report, highlighted in yellow and reviewed by an internal auditor on Brock's staff two years ago, describes the remodeling work this way: "Home has been extensively remodeled on interior and exterior including new roof, interior and exterior paint, new tile flooring in baths, new kitchen countertops, cabinets and appliances, new A/C, new bath vanities, and new well equipment."
Contrast that with the Power Point slide Brock presented to Collier Commissioners at their Jan. 14 meeting. "No way to determine if goods received, work was completed, what the work was, whether any of this work was bid, or whether BCBE did all of the work," the slide says. Brock said he based his claim on the two page sworn invoice provided by Boran Craig Barber & Engel and he blasted a line item for "general conditions."
Permit reports, easily checked online by Naples City Desk, corroborated work reviewed numerous times by county building inspectors who examined new roofs, new windows, plumbing, electrical work, and new air conditioners in all of the houses remodeled by H.O.M.E. in 2009 and early 2010.
H.O.M.E., founded by Brock's 2012 political challenger John Barlow, has been under Brock's microscope in an exhaustive audit that first launched three years ago. Brock re-opened a H.O.M.E audit in April and presented his findings at the Jan. 14 Board of County Commissioners meeting. Brock's critics called Brock's presentation a chilling and blatant political payback and abuse of office.
"It is unbelievable that the County Clerk would allege that the renovation of these homes never took place, especially since it was the County Clerk's own office that reimbursed the grant money and acknowledged completion of the renovations for each house," H.O.M.E's board said in a written statement provided to Naples City Desk via the board's attorney, former federal prosecutor Nicole Waid.
"The efforts of all the volunteers who helped to acquire and renovate these homes should be applauded, not maliciously attacked with false allegations made pursuant to what appears to be an unfortunate political vendetta," the statement on behalf of H.O.M.E.'s board of directors said.
H.O.M.E.'s board, which dissolved when the organization officially shut down in 2010 after completing the home renovations, included high profile community business leaders such as Russell Budd, a past president of the Greater Naples Chamber of Commerce; Julie Schmelzle, the chairwoman of the Chamber's economic development initiative called the Partnership for Collier's Future Economy; Mel Engel Jr., the CEO of Boran Craig Barber & Engel, and also Gina Downs, who previously ran against Georgia Hiller for the District 2 Commission seat in 2010. Hiller is running for re-election unopposed.
Following Brock's presentation in January, Hiller said she believed H.O.M.E. owed taxpayers $635,000, including $410,000 for work not done by BCBE. "We need to go after these people," Hiller said. "And if you need to go to law enforcement, I'll go with you."
Steve Goodson, a public auditor at a Texas state agency and a member of the education committee of the Institute of Internal Auditors, said auditors must maintain their objectivity and keep an arm's length from politics. "I would think it would be nearly impossible for an auditor to be objective regarding someone he's run against in a political race," Goodson said.
Auditors look for reasonable evidence that work was done to back up bills. "A reasonable person test comes into play," Goodson said. "You look for reasonable assurance. There is no absolute assurance, but would a reasonable, educated person come to the same conclusion?"
Internal documents, and hundreds of pages of deeds, mortgages and notes, examined by Naples City Desk raise questions about whether Brock's office buried or ignored evidence favorable to H.O.M.E. and whether Brock abused the power of his office to unjustly smear private citizens and his political rivals with false and misleading allegations.
A Naples City Desk analysis of more than 65 deeds, mortgages, and notes, and a review of hundreds of pages of documents submitted to Brock's office by H.O.M.E., building permits and other public records show that Brock's inflammatory public accusations that H.O.M.E. fleeced taxpayers and that H.O.M.E. board members potentially committed crimes are not supported by documented facts. (See related story and graphic "Follow the Money")
Brock initially granted Naples City Desk a two hour interview following his public presentation, but he declined to give a follow-up interview or answer written questions after Naples City Desk got access to internal audit files. Naples City Desk was stalled getting full access to the public records and delayed by Brock's office over the course of more than three weeks.
Brock declined to answer questions about the appraisal reports. In an earlier interview, Brock said he isn't conducting a witch hunt, that his office has uncovered numerous problems with the county's housing department, and that anyone receiving public money should expect intense scrutiny from his office.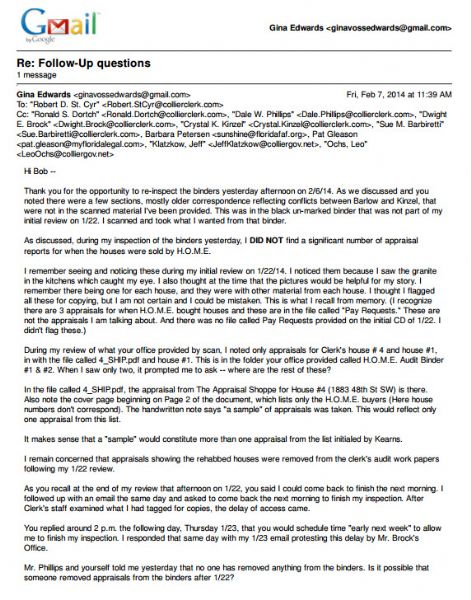 According to handwriting on an internal audit memo obtained by Naples City Desk, an auditor on Brock's staff reviewed appraisals of the remodeled houses two years ago and took a sampling of documents for the internal audit files. The original documents were on file with the county's housing department almost four years ago. In a document binder, one of 6 audit work paper binders compiled by Brock's Office, there were two appraisal reports for houses sold by H.O.M.E. after the remodeling work was done.
This reporter remembered reviewing numerous appraisals that showed remodeled houses, thought at the time to be for each house, and paper-clipping the documents to get copies on Jan. 22. Later, after Brock's Office sought to delay access, the appraisals weren't provided by Brock's office with hundreds of pages of scanned copies nor were they in the original document binders when they were re-inspected by this reporter on Feb. 6. Brock's spokesman said no documents were tampered with or removed. This reporter couldn't be certain if documents were missing. (See letter with chain of events in PDFs at bottom of page)
An attorney for H.O.M.E., Nicole Waid, subsequently provided copies of the appraisal reports to Naples City Desk.
Barlow, a retired CEO, founded H.O.M.E. in 2008. The idea was straightforward: Buy foreclosed and blighted houses. Remodel them. Sell them to low-income families with the help of down payment assistance. Get federal and state grant money to help do it.
H.O.M.E. received $427,000 in federal housing grant money — and used all of it to buy 7 foreclosed houses, most of them in Golden Gate City. That is all the federal grant money H.O.M.E. received. H.O.M.E. spent more than $400,000 — using all private money, mostly financed by Barlow — to buy 6 other houses.
On top of that, H.O.M.E. provided $427,000 in down payment assistance to low income buyers in the form of 30-year, 0 percent interest loans. Separately, H.O.M.E. received $194,000 in state money for rehab work on the houses, $150,000 of which went directly to Collier County and didn't pass through H.O.M.E.
H.O.M.E. spent more than $564,000 to remodel the houses, according to invoices submitted for the audit. All told, H.O.M.E. sold 12 houses to low-income buyers and took in just under $1 million from the sales. (One house, paid for with all private money, was sold to a trust and H.O.M.E. took a loss on the house.) Brock, who hired a consultant, said H.O.M.E. had end profits of more than $75,000 that it owed back to the county. Previous reviews by county staff and Brock's internal auditor said the estimated $100,000 in private donations put into the project by H.O.M.E. would erase calculated profits.
The broad-scope audit conducted by Brock's Office in 2012 didn't find fault with the BCBE construction invoices, nor did it raise allegations that Brock leveled in January that Brock said should be looked at by law enforcement.
BCBE is one of Collier's largest construction firms: Founded in 1972 it's known for building landmarks like the Naples Philharmonic, the Naples Museum of Art, LaPlaya, the Hyatt Coconut Point and more than 140 luxury condo towers. In 2013, BCBE won Sand Dollar awards from the Collier Building Industry Association including for the category "Best Whole House Renovation $500,000 to $599,000."
Mel Engel Jr., the CEO of Boran Craig Barber & Engel, sat on H.O.M.E.'s all volunteer board and then stepped down from the non-profit when his company did the construction remodeling work. Brock said Engel had a prohibited conflict of interest under the contract so none of the payments to BCBE are valid.
Whether federal housing auditors would take such an extreme position remains to be seen.
H.O.M.E.'s board said it's eager to get a review by HUD auditors and law enforcement to clear its reputation of false allegations leveled by Brock.
"Perhaps this is the only way we will learn why the County Clerk is spending taxpayer money on the repeated audit of a grant that County staff closed out successfully over 3 years ago and upon which the Clerk completed and presented his own audit to the Board of County Commissioners two years ago — a grant which met its goals and objectives by providing newly renovated homes to 12 deserving families in our community. The H.O.M.E. Board of Directors, through its counsel, looks forward to addressing each of the false allegations made by the County Clerk and the audit. Our community deserves better, our community deserves the truth," H.O.M.E.'s board said in a statement.
Notes from appraisal reports
Highlighted appraisal report in Clerks' Internal Audit files
Appraisal Report Photos
See Related Story:
Elected auditor Brock sics law enforcement on 2012 political challenger over housing grant
Naples City Desk investigation: Internal documents show Brock allegations false, misleading
"God is going to give me a house"
Outside of Marie Sanon's front porch on a recent chilly morning she had carefully covered her tender tropical plants. Her yard in her East Naples home is neat and tidy and her fence and paint job look to be the newest on her street.
Sanon, a certified nursing assistant said previously her family of four struggled to pay rent that was too high.
"I said God is going to give me a house," Sanon said.
She found the H.O.M.E. program through her Realtor. Contractors were working on the house when she went to visit it. Inside, the house has new tile and new kitchen cabinets and granite countertops. Sanon said a woman at Collier County government walked her through the application process and helped her through every step. "She helped out with everything — Everything," Sanon said. "It was really nice. I appreciated it and I still appreciate it."
Having their own home has been life changing for Sanon and her family, she said. "It's a wonderful program."
Not as sweet: Welcome to homeownership
Four years after moving into the house he bought as part of the H.O.M.E. program, Jason Gore, now a teacher, said he's not sure how sweet ownership is.
Gore said he's happy to have a low-cost mortgage but he has some trepidation about just how old the bones of his house are.
His house in Golden Gate City was built more than 30 years ago. H.O.M.E. remodelers did a massive renovation: Gore said the inside of his house was all redone. The house got new kitchen cabinets and granite counters and new floors and new bathrooms and a new roof among other repairs.
He was told the plumbing and electrical were re-done, and building permits show inspections for the work.
But Gore says he's had some problems with the plumbing and electrical work since moving in. "It's what's behind the walls that I worry about," Gore said. He said he complained to Collier County that one of the subcontractors needed to fix a plumbing issue that was still under warranty. The plumber came and snaked the lines, but didn't fix the problem and then wanted to charge for work after the warranty was up, Gore said. Gore eventually fixed the issue himself. Now four years later, he's having problems with electrical issues and outlets and there's no warranty left. Gore said when he's called the county, he's been told, in effect: Welcome to the joys of home ownership.
Gore's mortgage was $90,400, but he'll have to pay off the $35,000 zero interest, 30-year down payment assistance note when he sells. And he worries he won't be able to sell.
This story originally was publised on Feb. 11, 2014
Contact Gina Edwards at 239-293-3640 or by email at ginavossedwards@gmail.com